6 Ways To Get On Google's First Page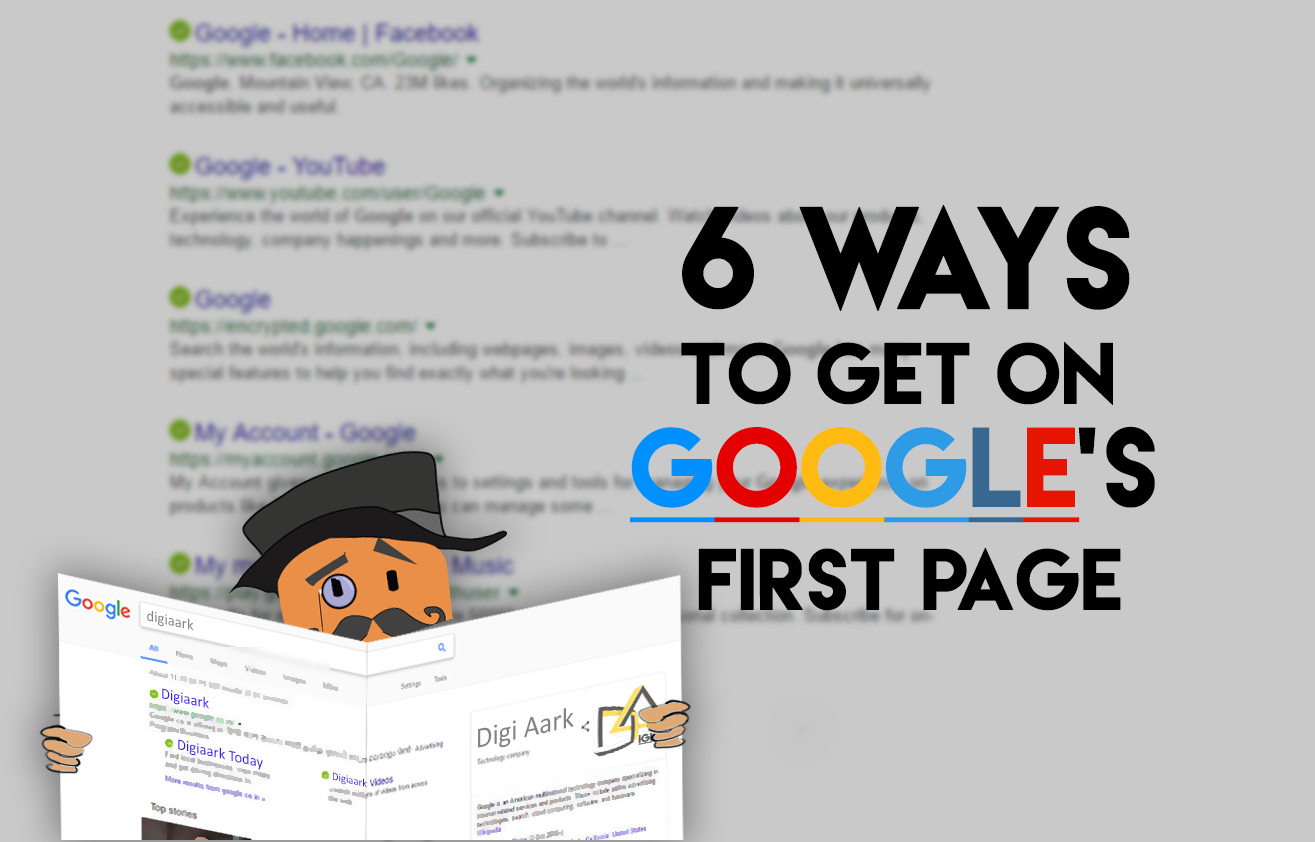 Most of the website owners, you, I and our competitors wants to be on first page of Google search engine. More than 90% visitors never visit the second page of the search engine results. So getting your business/brand on the first page of Google becomes necessary.
To begin with this you need to follow this basic guide:
Creating  quality content


Creating quality content is becoming the standard marketing tool. Publishing great content can navigate you to more potential customers; increase your online visibility as well as more social media followers, thereby helping you to get a first page ranking on Google Search. However to achieve all this, your content needs to accomplish two goals:  be unique and be of some value to users.
A really well-written content goes a long way. As long as you are writing well, people will link to it.

Relevant Link-building


Backlinks are a most important factor of Google ranking. The more links you have, the more opportunity for you to get a good position.

Generate original content


If you repost stolen content over different pages of your site, you'll be docked by Google for it.
You might end up thinking that you didn't get caught by a person; but you should get this by heart that all the way down Google's bots do all the heavy lifting. So instead of lifting up content from anywhere else, focus on creating quality content that's all your own. Write something that's genuine, aged and valuable.

Incorporate appropriate images


Google also looks for images and pictures (image quality will also play a role!). Just make sure to create images that match your text and don't steal images. Every picture tells a story. Therefore, content with at least one image outperforms content without any images.

Use keywords throughout


A keyword generally means the words people type in a search engine to get desired results. So the industry type you are operating in, can help you chose specific keywords. The process will be easy once you learn how people look through and search in Google.
For example, we want our company, DigAark, to be ranked on the first page, then the keywords we can target are – Digital Marketing Company, SEO Company in India, Website Development Company and so on. Identifying unique relevant keywords is the most important job.
When writing blogs or creating social media content, an optimized use of keywords will surely increase your visibility as well as improve the rank.
Google keyword search is the best tool available to determine the specific keywords. Other than that there are many other tools available online – Google Adwords, Keyword Explorer, Word stream Keyword tool etc.

Design a social media page
Your presence on social media platforms especially FaceBook, Twitter, YouTube, LinkedIn etc, also increases your chances to get on first page of Google without paying for Adwords. It helps in increasing your online visibility thereby providing better connectivity with existing customers.
The answer to the question '6 Ways To Get On Google's First Page' is very simple. If SEO is done correctly and if you optimize your site fully, you can achieve great Google ranking.