5 Reason You Should Hire A Digital Marketing Agency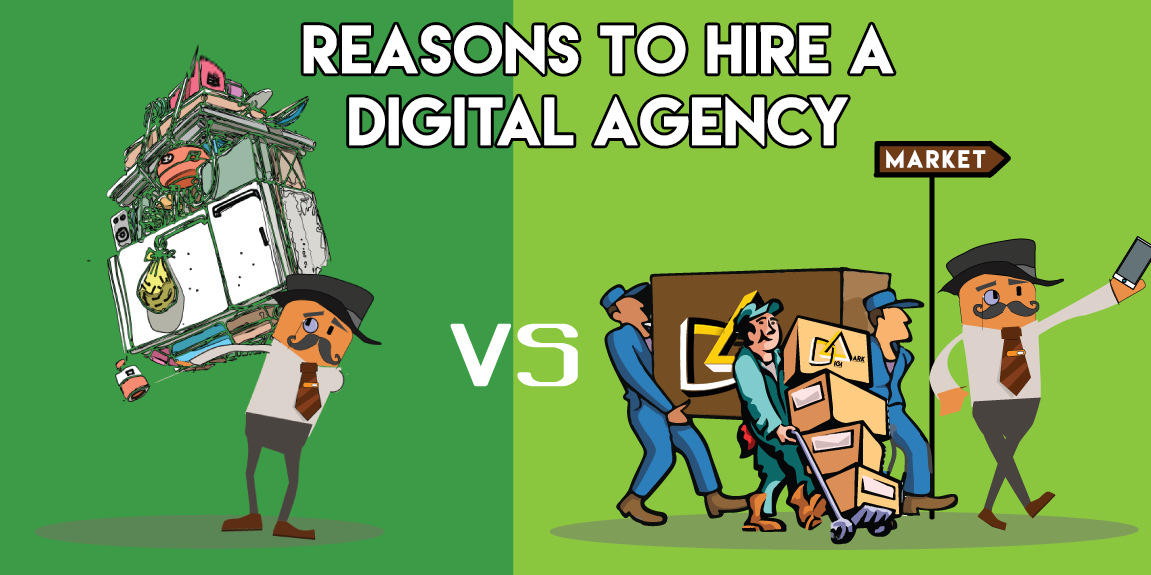 Today, almost everyone and everything is just a digital handshake away on internet.
We are all aware of the fact that digital marketing has effectively taken over the traditional marketing methods, and has evolved as the 'great marketing media'.
In this age of digital marketing agency, most businesses, regardless of the size, recognize the need for an effective digital marketing strategy.
Now you have decided to take your business online, it's your turn to set the goals.
The question arises, "how you can make your Digital Marketing Strategy in a smarter way?"
Did you know that an estimated 50% of your total budget would go to online marketing for business growth and generating sales, if you set an in-house Digital Marketing team?
Many, a majority of companies are moving towards online marketing agencies to take a strategic approach to digital marketing today.
To hire the services of a digital marketing agency, you have to be clear with the size and goal of your company's objectives.
A digital marketing agency should present you with your desired outcome and at the same time is affordable and flexible.
If you're not convinced yet, here's why you should be:
1.Inexpensiveness
For online marketing you need an effective use of manpower resources to work on it, having an expert knowledge on various topics such as Search Engine Optimisation, AdWords, Social Media, and so on. Not only that, you need to invest a lot of time as well to develop marketing strategies and believe me when I say, it's a "race against time".
Here comes a Digital Marketing agency with a team of expert digital marketers who can handle all your strain. Building a full-fledged in-house set up to create a Digital Presence within a short span of time, is nearly impossible for many small-medium sized businesses.
Instead, you can outsource it and get it done by experts ensuring an effective control over your budget. While your team focuses on their core strengths, all your online activities will be taken care of by digital marketing experts.
 2.Marketing Skills and Experience
Digital marketing agencies handle multiple clients simultaneously as well as work on various projects to grow the business. The team is well acquainted with the strategies that can go well with your business requirements.
They put to use a number of best practices to set forth the perfect strategy which will work in favor of the clients. A large group of experienced people come together, to evaluate your business' needs and develop a powerful strategy that expands your business. They can create massive online buzz.
3. Consistency is the hidden key
The digital marketing world is very dynamic with complex changes arising every day. In order to stay current in the rapidly changing digital world, they keep themselves updated all the time to deliver better services. A marketing agency is well aware of the struggles of marketing, what works and doesn't work.
Any online marketing agency's core focus is to serve their client's requirements. They can tell you what is best for you in a much more interesting and profitable way.
4.Preparing a competitive analysis
Remember! With years of experience in this field, they will have the ability to evaluate your competitors, since they have handled various clients and industries. They will also have an updated knowledge of tools that will help your business rise to the top and leave all competitors behind.
5.Highly scalable
The foremost advantage of hiring an online marketing agency is being able to measure the goals effectively. Work done by the agency can be measured by weekly targets, monthly or fortnightly reports. You can easily examine whether the outsourced team is working passionately for your project or not.
If you are an established brand today, you have to reach out to a Digital Marketing Agency, instead of setting up an In-house team.
Thank us later!
We at DigiAark, ensures your digital presence and make you connect with the target audience. DigiAark is a Digital PR Agency based in Delhi/NCR which focuses on brand building and brand reputation for Companies, Brands and Individuals. For more information, you may visit our website www.digiaark.com or write to us on info@digiaark.com.