What is SEO / Search Engine Optimisation?
Do you have a website and are wondering what Search Engine Optimisation (SEO) is or how is it helpful to promote website? Let us simplify it for you. Search Engine Optimisation is the process of using search engine friendly elements that refine the visibility and occurrence of a website on search engines. These search engines work on various algorithms that include crawling of the website content and its indexing for the relevant keywords.
There are five basic parameters on which the webpages are evaluated by search engine.
Good and unique content.
optimum keywords density, images, content etc. published on the website
Content sharing on different platform.
Linking your content to other relevant website.
Increase your online reputation and make people talk about you.
 Type of SEO Technique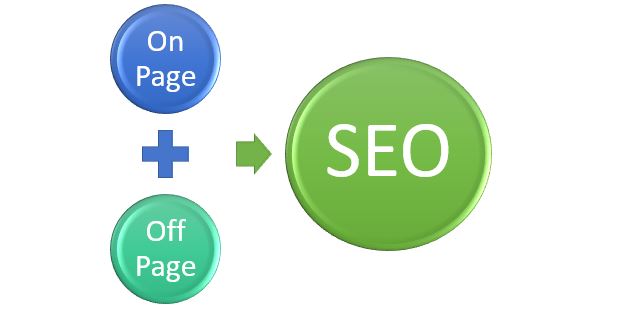 On-Page SEO includes techniques to optimise the website content according to the required algorithm and is presented to search engines. The motive of this technique is to structure a webpage in a way (based on search engine algorithms) so that it is listed by the search engines for relevant keywords/ key phrases. A well performed On Page Optimisation increases overall visibility and readability of the website. This is generally a one-time process and if done correctly, only minor tweaking is required occasionally.
 OFF PAGE
Google is the most used search engine and according to a study there are 99% of users who do not even visit the second page of search results on Google page. So it becomes extremely important to develop an authority of your website which is attained by Off-page-optimisation. It is all about relevance and online reputation of webpage for a search query keyword/key phrase. Off-page optimisation is a long term and never ending process but it doubles the chances of better visibility of your website.
Why SEO is essential?
Here is a list of four major essential SEO reasons why your business or website should definitely invest in your organic SEO.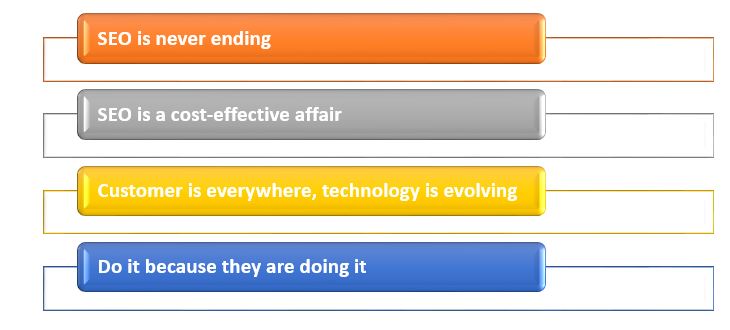 SEO is never ending: 

The usage of and dependence on internet has increase manifolds and would increase more in future. It is not going to stop working any time soon. Content in digital marketing would always be the king because search engines are dependent on content be it text, image, audio or video. To get the higher authority and position in search engine results you ought to work on structuring the relevancy and frequency of keyword and key phrases in your website and continue to do effective the Off page optimisation. Search engine optimisation exists till the search engines exist.

SEO is a cost-effective affair

SEO provides measureable ROI. If you consider organic SEO, it is comparatively cheaper than paid marketing techniques such as pay-per-click campaigns, social media marketing, lead purchasing etc. Obviously, paid SEO techniques accelerate your online presence but organic SEO is still the backbone of your digital marketing strategy.

Customer is everywhere, technology is evolving

It is important to manage a healthy content strategy spread over not only the website but also on parallel platforms such as blogs and social media platforms. With increased usage of social media platforms, even search engines are giving importance to social media parameter in the extracting search results. A lot of traffic is coming from mobile phones so it is equally important to optimise the content for mobile phones also.

Do it because they are doing it

It is amazing to go easy on SEO if you are the only player in niche segment but for how long would you be the single player? The SEO is important because your competitor is doing it and obviously you cannot afford to lose out your audience to them. As mentioned, SEO is a long term and never ending process which builds up your authority on internet. But no search engine ensures this same authority if you are no longer doing SEO for your website. Along with your strategy it is important to keep a watch and analyse what your competitor is doing.
We at DigiAark, ensures your digital presence and make you connect with the target audience. DigiAark is a Digital PR Agency based in Delhi/NCR which focuses on brand building and brand reputation for Companies, Brands and Individuals. For more information, you may visit our website www.digiaark.com or write to us on info@digiaark.com.