What Is Digital Marketing?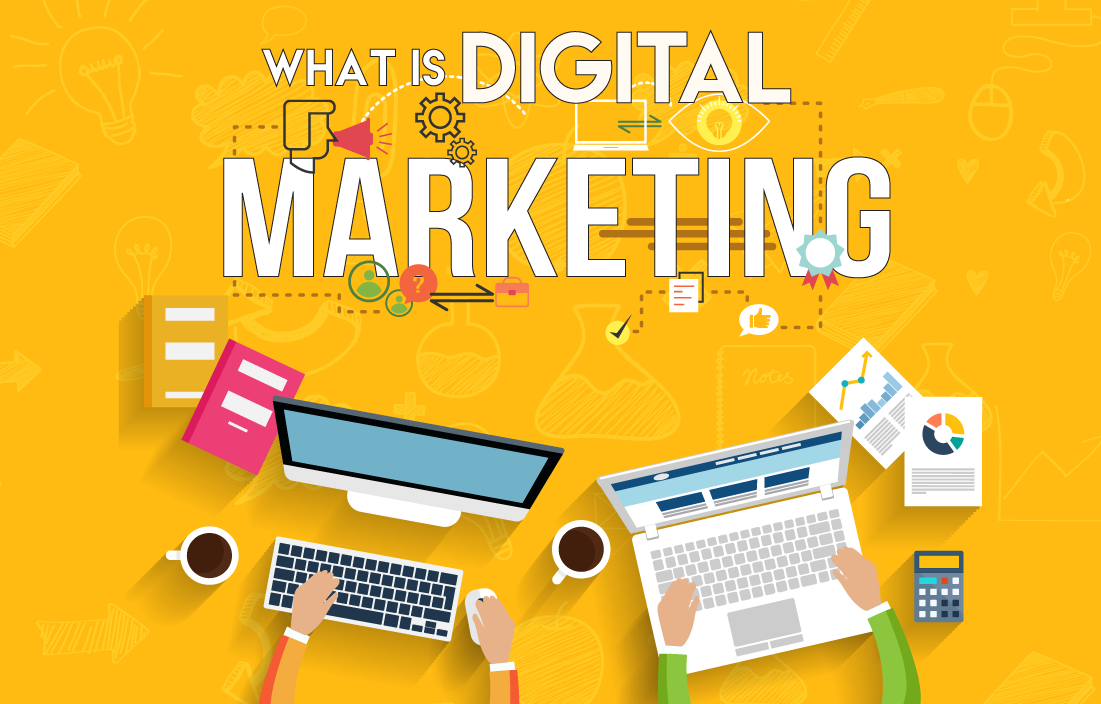 With over 1800 Million active users on social media platforms, Digital marketing or online marketing is essential for branding and marketing. Let us learn what is it and take a dip in to the ocean of Digital Marketing?
Digital marketing or online marketing refers to the advertising/marketing of product or brands to the potential customers, digitally through various online channel such as website, blogs, mobile apps, and social media sites etc.
With advancement of technology, behavior of customers to buy products has also changed. So Digital marketing benifits in the most convenient and effective ways to market products to the specific customers of your interest in terms of age, sex, location etc. digital marketing has found the way to connect with you right audience at right time.
What tactics digital marketing have?
Digital marketing includes everything from website to the products/services marketing present on internet. Though online marketing is a huge area of marketing in itself but there are tactics which are performed in digital marketing.
1. Search engine optimization (SEO)
Search engine optimisation is a process to "Rank" website higher on the search engine page such as (google, yahoo, Bing etc.) to receive higher amount of traffic organically (Free cost).
2. Blog marketing
Blog marketing is a process of writing "Content" on your brand, products or any related and relevant topic and sharing it on your website.
3. Social media marketing (SMM)
Social media marketing is a process at connect to the large number of customers/audience on social media platforms like Facebook, Instagram, Twitter etc. to promote brand, drive traffic and lead generation for business growth.
4. Affiliate marketing
Affiliate marketing is a performance based marketing where other promoters get commission for promoting or selling someone else's product. This type of marketing is a great example of multi-level marketing.
5. Email marketing
Email marketing is marketing process used by companies to connect with their customers new or old. This marketing technique is mostly used to promote launch of new products, discounts coupons and events.
6. Pay per click (PPC)
Pay per click is a paid method to drive traffic to the website by paying a publisher every time your advertisement is clicked.
7. Online PR
Online public relation (PR) is a method to make or maintain brand reputation on online platform. Its much like a traditional PR but it is performed online.
We at DigiAark, ensures your digital presence and make you connect with the target audience. DigiAark is a Digital PR Agency based in Delhi/NCR which focuses on brand building and brand reputation for Companies, Brands and Individuals. For more information, you may visit our website www.digiaark.com or write to us on info@digiaark.com.